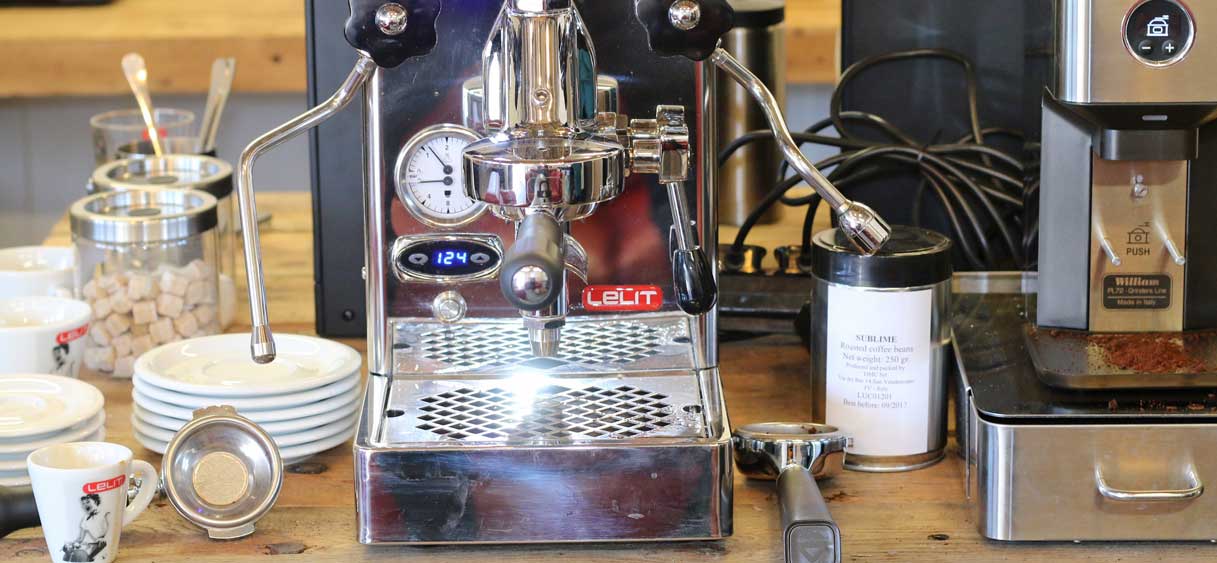 Buying your first coffee machine can feel like a daunting task. You've got your head around the differences between beans, ground and instant. Now you've got to think about pumps, filters, thermo blocks and froth. To help you pick the perfect coffee maker for your home or office, we've broken down the different types of coffee machines and made a few recommendations.
Bean-to-Cup
If you like your morning coffee fast but fresh, bean-to-cup coffee machines are the way forward. As the name suggests, these machines grind your beans each time you make a coffee. They usually offer a wide variety of adjustable options so you can do it exactly to your tastes.
Unlike with traditional espresso machines, you don't need to complete each step by hand – so you don't have to be a barista to get a great cup of coffee. If you've got a house or office full of busy but picky caffeine-addicts, a bean-to-cup machine is a great way to keep everyone satisfied and fuelled up.
Budget option: Nivona CafeRomantica 626 Bean-to-Cup Coffee Machine
Premium option: Nivona 1030 Bean-to-Cup Coffee Machine
Espresso Machines
If you enjoy the experience of not just drinking but making your perfect cup of coffee, a traditional espresso machine allows you to make the most of it. Typically used in coffee shops and by true coffee aficionados, espresso machines give you complete control over your cup as you grind the coffee beans yourself, set the temperature and pressure, and steam or froth your water or milk.
Because these require more time and effort than other types of coffee makers, they're great at-home coffee machines for those who like to spend a leisurely Sunday morning experimenting with their coffee-making techniques.
Budget option: Lelit Anna PL41LEM Espresso Machine
Premium option: Lelit Mara PL62T Traditional Italian Espresso Machine
Filter Coffee Machines
If you want your coffee five minutes ago and will probably want another one in another five minutes, filter coffee machines are a fast, no-fuss way to get your caffeine fix. They usually need ground coffee rather than beans, and you'll have to add your milk yourself, but they can also make coffee in bulk so you can save any arguments about who gets the first cup in the morning.
Filter coffee machines don't offer the same levels of customisation as espresso or bean-to-cup machines, but they're a convenient and affordable choice for those looking primarily for practicality.
Budget option: Igenix IG8127 Filter Coffee Maker
Premium option: Morphy Richards Accents Pour-Over Filter Coffee Maker
Capsule Coffee Machines
If you know what you want and you aren't prepared to wait for it, a capsule coffee machine could be your new best friend. These machines are made for convenience, and the no-fuss approach means there's less to worry about when you're still suffering from your pre-coffee morning fog.
Typically, you can only use the coffee pods made by the machine's manufacturer – which means that costs can add up quickly. They also don't allow for a lot of customisation, so capsule coffee machines are often best suited to those who just like the occasional cup.
Budget option: Tassimo Vivy Coffee Machine
Premium option: Nespresso Creatista Plus Coffee Machine
It turns out that when you're picking your coffee machine, there's a whole latté to think about. If you want some advice from the experts, you can get in touch with our partners over at Coffee Beans Coffee Machines for a complimentary consultation.